Architectural Drafting Services
Are you an architect who needs an architectural drafter to draft your projects in CAD format? If yes, then I can help you.
My Offering
I've found some architects periodically need help drafting their construction drawings. It's been said:
The heart of any project resides in its construction drawings... This is the place where the building succeeds or fails: In the construction drawings, it is possible to express the possibilities of materials, the lyricism of their assembly, and the potential of each to articulate and support the ideas of the larger whole. At their best,construction document drawings balance the architect's instinct for innovation with the tempering voice of experience.
And the authors of "Construction Documents Production" in The Architect's Handbook of Professional Practice, explain that construction drawings:
show, in graphic and quantitative form, the extent, configuration, location, relationships, and dimensions of the work to be done. They generally contain site and building plans, elevations, sections, details, diagrams, and schedules. In addition to drawn information, they may include photographs, other imported graphics, and printed schedules.
Considering all this, I understand CDs are an important part of the construction documentation process. Therefore I can draft your construction drawings, with the understanding I need to do so meticulously.
Sample
Below is a sample of a single family home.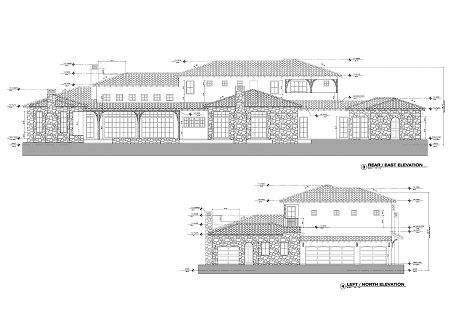 A single family home in Texas. Click image to launch PDF.
Contact
If you're ready to discuss architectural drafting work, then please call me now at: 718.441.3968 or email at: brian@draftingservices.com
Clients Have Commented
... Thank you many many times for completing all this work so fast. Jay E. Butler, PE, February 26, 2009
... with all the great work you have done for us. Nolan R. Rogers, Turner Construction Company, April 8, 2010
... Thanks for the fast work. Adele Finer, AIA, LEED AP, July 28, 2010