Steel Detailing Services
Are you a contractor who needs a steel detailing service? If yes, then I can help you.
Introduction
My name is Brian M. Curran. Since 2007 I've run my drafting service business in NYC.
I have great People, a great Process, and a great Product. Let me explain...
Meet The People Who Will Serve You
I have three steel detailers on my team. One of my detailers has 29 years of experience, another has 15 years of experience, and the other has 7 years of experience.
That's right; my senior detailer has 29 years of experience. My people are qualified.
Experience The Process That Will Make Your Life Easy
As the manager of my detailing team I understand that you as a contractor are looking for certain traits from your detailing service. You want a service provider who will:
Promptly answer your calls/emails, is reliable, is orderly, will give you realistic drawing delivery dates, has been around for years, has the experience you need, communicates well, and has more than one detailer so you're not left waiting in a long line.
I have a process to provide you with this level of service.
Receive The Product (i.e. Drawings) That Will Make Your Projects Succeed
We create structural steel shop drawings. Both erection drawings with a bill of material, and fabrication drawings (aka detail drawings and assembly drawings). We do so for architectural steel, miscellaneous metals, and structural steel.
Our focus is on miscellaneous steel and small buildings. Items such as steel stairs, railings, ladders, catwalks, mezzanines, support structures, moment frame buildings, braced frame buildings, and etc.
We have experience with commercial buildings, residential buildings, single family houses, industrial plants, subway tunnels, and waste water treatment plants.
We use Tekla ®, AutoCAD ®, and Revit ® depending on the project.
We typically service steel erectors, steel fabricators, and general contractors.
Our product is great steel detail drawings.
Sample Drawings
At this point you may have liked what you've read about my People, Process, and Product. So you may want to see some sample drawings.
My team is finishing drawings weekly. If you visit the draftingservices.com Instagram profile, then you will see some current steel shop drawing samples mixed amongst other completed projects.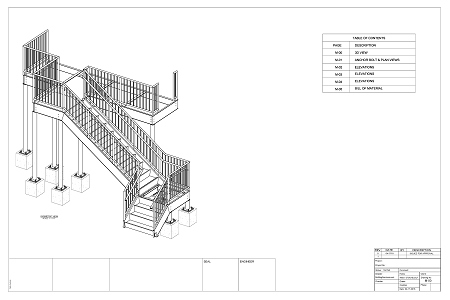 Here is a steel detailing sample in PDF format. The drawings are steel stair shop drawings. These are erection drawings only. No piece / fabrication details were included on this project. The drawings were drafted in Tekla ®. Click image to launch PDF.
Contact
As I said at the start, I have great People, a great Process, and a great Product. My steel detailing team would be a valuable asset to your business.
Why don't you make your life a little easier, by choosing to use draftingservices.com as your steel detailing service? Let me put my People, Process, and Product to work for you.
If you're in need of steel detailing, then please call me now to discuss your project. I want to take your call whether you just want more info, or you're ready to get started today. Call me now at: 718.441.3968. Or email me now at: brian@draftingservices.com
Clients Have Commented
... Thank you many many times for completing all this work so fast. Jay E. Butler, PE, February 26, 2009
... with all the great work you have done for us. Nolan R. Rogers, Turner Construction Company, April 8, 2010
... Thanks for the fast work. Adele Finer, AIA, LEED AP, July 28, 2010