Reflected Ceiling Plans
Here's a recent project that I completed, which included creating a reflected ceiling plan (RCP) drawing of an existing three bedroom apartment. The apartment was located in a multistory residential building on Riverside Drive in Manhattan. My scope of work also included creating a floor plan drawing of the apartment, along with documenting the electrical/data/HVAC points, and window sill/head heights.
More Details on My Drawings
The RCP was to include the ceiling electrical/data/HVAC points, beam/soffit locations and heights, and ceiling heights of the main rooms. Below I've included an image and PDF of the reflected ceiling plan.
The image you see below is clickable. Once it is clicked it will launch a color PDF document. The different colors of the drawing represent the different layers that were used in AutoCAD.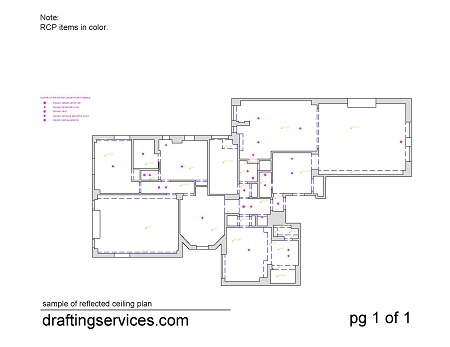 RCP of three bedroom apartment. Click image to launch PDF.
Samples
More of my drawing samples can be found at my Portfolio page here and at my blog here. Also, videos of some of my project locations can be found at my Google+ page here.
Contact
If you're in need of RCPs, then please feel free to call me, Brian M. Curran, today to discuss your project. Call now at: 718.441.3968 or email at: brian@draftingservices.com
Clients Have Commented
... Thank you many many times for completing all this work so fast. Jay E. Butler, PE, February 26, 2009
... with all the great work you have done for us. Nolan R. Rogers, Turner Construction Company, April 8, 2010
... Thanks for the fast work. Adele Finer, AIA, LEED AP, July 28, 2010