Floor Plan Drafting
There are two different types of floor plan drafting. They are:
Def. 1: When a floor plan is first designed, and then drafted.
Def. 2: When the floor plan of an existing structure is measured, and then drafted.
The difference between the two is that one floor plan is drawn from a design, and the other is drawn from measurements taken of an already existing structure.
I make this distinction because I received all kinds of inquiries, some of which are looking for design services. I do not provide design services. I only create floor plans of already existing structures, by means of field measurements.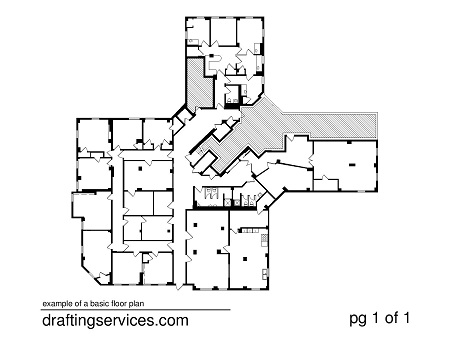 This is an example of an existing conditions floor plan.
A Term Defined
The word drafting as it is used within the AEC industry, is:
Def.: The craft or trade of creating technical drawings.
Architectural, Construction, and Engineering drawings are examples of technical drawings. Nowadays drafting is done using CAD software, whereas once it was done by pencil on paper.
Another Term Defined
The phrases plan or plan view, as they are used within the AEC industry, mean:
Def.: The top-down view of some object of interest.
In other words, the plan view of a house for example, would be the perspective that a bird would have if it were hovering above the house and looking down upon it.
The Features Of A Floor Plan Drawing
The items normally included in a floor plan drawing would be the exterior walls, interior walls, window openings, door openings, stairwell limits, bathroom fixtures and kitchen appliances.
On more detailed floor plan drawings, more information could be included, such as cabinetry, electrical distribution points, mechanical equipment, radiators, utility connections, and et cetera.
Samples
More of my drawing samples can be found at my Portfolio page here and at my blog here. Also, videos of some of my project locations can be seen at my Google+ page here.
Contact
If you need the floors of an existing building measured and drafted in CAD format, then please feel free to call me, the New York City based drafting services consultant, Brian M. Curran today. Call now at: 718.441.3968 or email at: brian@draftingservices.com
Clients Have Commented
... Thank you many many times for completing all this work so fast. Jay E. Butler, PE, February 26, 2009
... with all the great work you have done for us. Nolan R. Rogers, Turner Construction Company, April 8, 2010
... Thanks for the fast work. Adele Finer, AIA, LEED AP, July 28, 2010